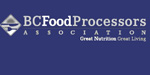 Quality Assurance
Perfecting the Process
At BC Frozen Foods Ltd., we practice comprehensive Quality Assurance policies and procedures. These programs are utilized throughout our company – from production to operations, field to harvest, distribution to customer relations.
Most of BC Frozen Foods Ltd. growers are now Canada Gap certified which incorporates the grower into our food safety enhancement plan. Growers are audited to minimize potential risks on their farms and enhance the overall quality and food safety of the fruits and vegetables they deliver to BC Frozen Foods Ltd. Assuring wholesome, microbiologically safe frozen fruits and vegetables includes a comprehensive sanitation program. All analysis is completed during processing and packaging, and each department has well trained and experienced sanitation personnel.
Our quality assurance personal conduct various environmental tests within our facility to ensure our lines are in top sanitary condition. This is accomplished by Total Plate count swap, ATP (Adenosine Tri Phosphate) testing for the presence of protein, and various catalyze tests. A comprehensive monitoring and trending system provides our personnel valuable information of their detailed sanitation.
Protection of our customer's brands and product is of the utmost importance to our organization. Our quality assurance programs are continually improving to ensure we adapt to the newest technology and testing processes available on the market place.


BC Frozen Foods Ltd. Quality Assurance Department goes beyond grading the final frozen product. Programs include:
BRC Certified
SQF Certified
Good Manufacturing Practices (GMP's)
Raw Product Grading & Control
Hazard Analysis of Critical Control Points (HACCP) for food safety risks
Kosher Halal Certified
Organic Certified
DRC Member
CFIA Recognized HACCP program
USDA Standards
Customer Specification Quality Grading
Customer Feedback Systems
Recall and Inventory Control
3rd party audits by SGS and AIB are conducted routinely to ensure the highest standards of food safety are maintained at all times. Products processed and sourced by BC Frozen Foods Ltd. and sourced are routinely tested within the company lab for standard microbiological and sent to our designated ISO 17025 laboratory pathogen and standard microbiological testing. All shipments from BC Frozen Foods Ltd. approved vendors are accompanied by a Certificate of Analysis to ensure microbiological compliance prior to use in various BC Frozen Foods production lines.